Several 'sightings' of missing worker Ben Caplan, says editor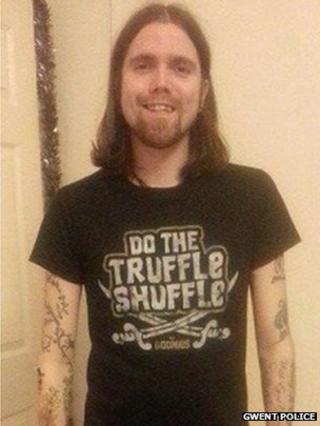 Police are investigating several unconfirmed sightings of missing Newport man Ben Caplan.
Mr Caplan, 30, who works for the South Wales Argus newspaper, was last seen at 23:00 GMT on Saturday at Boleros pub in Caerleon.
Editor Kevin Ward said there had been several reported sightings of him, including one in Cwmbran, where someone matching his description was seen getting into a green Mondeo car.
Gwent Police are investigating.
Mr Caplan is described as 5ft 9in (1.65m) tall and slightly built. He has shoulder length straight brown hair.
He was last seen wearing a navy T-shirt and jeans and has tattoos on both arms as well as his back and chest.
Website
South Wales Argus editor Kevin Ward said Mr Caplan had also reportedly been seen in Abergavenny and Newport.
Mr Ward told BBC Radio Wales it had been a difficult time.
"In particular for Ben's colleagues in the circulation department, it's been very difficult," said Mr Ward.
"But whatever we are feeling as friends and colleagues is nothing compared to his wife Danielle and his two young children and what they are going through. I can't even imagine."
Posters featuring a picture of Ben have been published on the newspaper's website and Newport Bus has displayed them on some buses.
"We are just doing everything we can to try and keep the awareness and try and bring him home," Mr Ward added.
There were reports of someone going into the water at Caerleon Bridge at about 23:45 GMT on Saturday and several searches of the River Usk have been carried out.
Gwent Police said anyone with information should call 101.