Gwent Police crime levels could be higher than recorded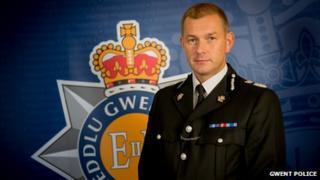 Crime levels in the Gwent Police area - which recorded the biggest fall in Wales and England last year - may be up to 8% higher than official figures show, says a report.
An internal review was ordered after Police and Crime Commissioner Ian Johnston accused former chief constable Carmel Napier of manipulating figures.
The report will be discussed by the Gwent Police and Crime Panel on Friday.
Gwent Police said training had been developed for relevant staff.
Home Office figures show:
Gwent Police had the highest crime reduction rate in Wales and England from September 2011-2012, with a 20% fall
During the period, 34,903 crimes were recorded, compared to 43,395 in the previous 12 months
Significant falls included burglary (down 25%), robbery (31%), vehicle crime (31%) and criminal damage (23%)
Friday's meeting follows a row between Mr Johnston and Ms Napier, who quit in June after the commissioner told her to retire or be removed.
After looking at 50 incidents over a 10-day period in July in which it appeared that a crime had been committed but had not been recorded, the review found more than half were wrongly recorded for various reasons, explained Gwent Police.
While the report accepts that the small sample makes "any realistic assessment of limited value" it said there could be between 4% and 8% more crimes per year.
Ms Napier has strongly denied manipulating the statistics.
Report authors were asked to determine if the area "can have confidence in Gwent Police's crime figures".
The review found no evidence among investigating officers that high interest in crime statistics by their superiors affected their decision-making. The report said: "They stated in simple terms, 'if it was a crime they would record it as a crime'."
It added: "The fact that there is no evidence of overt influence on crime recording is significant and the people of Gwent, the police and crime commissioner and chief constable can have confidence in Gwent Police's crime figures."
However, there was "evidence to show that officers had not recorded all crimes in line with the relevant Home Office counting rules" mostly because of "misinterpretations of the rules" as well as a "desire to support the wishes of the victim".
Officers were also "selective over their wording" when closing a log, and "underplayed" certain issues, it said.
It advised that Home Office counting rules should be "more prominently available".
In conclusion, the report said the chief constable should reiterate his support and guidance for officers, widen future reviews to include more feedback from victims, and simplify the internal audit system which monitors statistics, while increasing staffing levels.
On Wednesday, the force's new Chief Constable Jeff Farrar told MPs there was a risk performance targets were "driving" police in England and Wales to manipulate the figures.
Mr Farrar, who speaks for the Association of Chief Police Officers on crime statistics - and ordered the internal review - said targets were "subtly translated" in different ways and could "drive bad behaviour" by officers.
In response to the review, Gwent Police said measures had been introduced including "regular and clear messages" from the chief constable, and training for all relevant staff.
It also said steps were being taken "to improve the ease by which officers can gain access to the guidance they need", and "a tight focus on standards through an internal audit and scrutiny board" would be maintained.