Cyberbullying victim Jess Davies makes film to target trolls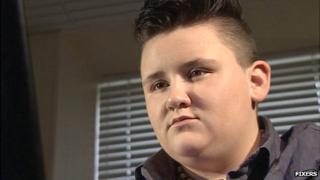 A teenage cyberbullying victim has turned the tables on internet trolls and made a film to tackle online abuse.
Jess Davies, 17, from Merthyr Tydfil, was bullied by both strangers and friends on social networking sites.
But she has now highlighted the issue with the help of a charity, showing cyberbullying from the bully's perspective.
The comedy shows how the bully mutates into a troll.
Jess said she had received abusive messages which hurt her feelings.
"It turned all my friends against me to the point where I had no-one left," she said.
"It made me feel depressed and tearful."
'Internet not to blame'
The bullying prompted Jess and three friends to work with the Fixers charity - which supports young people aged 16 to 25 - to produce a film, called Someone is Wrong.
As the film progresses the isolated, obsessed main character changes into a troll, by growing exaggerated teeth, nails and body hair.
"Most parents normally blame the internet, but the truth is it's not the internet that's the problem, it's the people who are on there," Jess said.
"One day they could be bullying the wrong person who is not in a fit state of mind to deal with it. I know it's painful, and I know it's hurtful.
"I'd be happy if we made the bullies realise what they are doing because without the bullies there won't be a victim."