Police consult on liver op deaths after surgeon suspended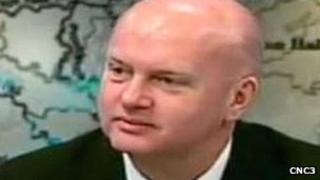 The "avoidable" deaths of eight people under the care of a liver specialist have been referred to police.
South Wales Police said on Thursday it would examine each case and decide whether an investigation was appropriate.
Prof David Paul Berry was suspended from the University Hospital of Wales in January after reviews into the outcomes of his patients were held.
A helpline has received more than 40 calls since news of the suspension.
Det Supt Paul Hurley said: "This matter has been referred to us by the Cardiff and Vale University Health Board.
"Following a report from the Royal College of Surgeons into the specifics of this case, we have liaised with the coroner and are now in consultation with the Crown Prosecution Service to examine the facts."
A spokesman said the force would consider "whether or not there are any criminal actions that require our attention".
The health board has issued "unreserved apologies" to every family affected.
BBC Wales discovered on Tuesday Prof Berry had been suspended at the start of the year.
Prof Berry, who moved to work in south Wales from the Leicester area, was originally stopped from carrying out complex surgery in October 2012 following concerns about the outcomes of some liver patients in his care.
An initial internal investigation confirmed the health board's concerns and he was fully suspended from duties in January.
Two further independent reviews by the Royal College of Surgeons (RCS) followed.
The second review, of the individual care of 31 patients who had complex liver surgery by Prof Berry, found 10 had later died. Eight of those deaths were avoidable.
It has since emerged he was suspended at the same time from Spire Cardiff Hospital where he had a private practice.
A helpline was set up by the health board for worried patients and families.
Medical director of the Cardiff and the Vale University Health Board, Dr Graham Shortland, said 42 patients had contacted the helpline - including two families of patients who health officials had been trying to trace.
"The hotline has taken a number of calls, including some from other parts of the UK, and nursing staff have been providing information and reassurance to members of the public," he said.
"We are also pleased that the two remaining families who we have been trying to contact for some time have been in touch and we can offer them appropriate support."
On Wednesday calls were made for a public review into the situation but it was rejected by the Health Minister Mark Drakeford.
"Any avoidable death in the NHS care is a matter for profound regret and a cause for deep distress to families,.
"All organisations must have robust clinical governance systems in place to routinely audit patient outcomes and take immediate action if concerns emerge.
"The suspension of a surgeon at the University Hospital of Wales was the result of such a process."
Meanwhile, Prof Berry's former employer, the University Hospitals of Leicester NHS Trust said his results in the year before he left for Wales were "in line with those of his peers" but over a longer period there were times when they "were not as good as those of his colleagues".
The trust has sought advice from the Royal College of Surgeons about the need for a similar "look back" exercise as that carried out in Wales.
Helplines have been set up at Cardiff and Leicester for concern patients
Cardiff helpline: 0800 952 0244 and will be open from 12:00 to 20:00 GMT from Wednesday 11 December to Friday 13 December
Leicester helpline: 0808 178 8337, running from 10:00 to 16:00 GMT daily until further notice.