Newport M4 relief road 'would destroy' woods, claims trust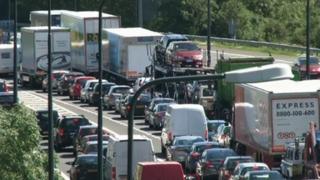 A new motorway south of Newport would put hundreds of years of natural heritage at stake by wiping out woodlands, it is claimed.
The Woodland Trust said the proposed Newport M4 relief road would destroy one ancient wood and threaten another.
It follows a claim by other environmental groups that the plans for the £1bn road across the Gwent levels are unlawful.
The Welsh government put the proposals out to consultation in September.
The Woodland Trust is urging people to go online to object to plans before the consultation period ends on 16 December.
'Natural heritage'
Campaigns officer Angharad Evans said: "The Welsh government's own planning policy recognises that ancient woodlands are irreplaceable habitats of high biodiversity value which should be protected from development that would result in significant damage.
"Yet the motorway would totally destroy one beautiful ancient woodland east of Castleton while one of the options would threaten another at Duffryn.
"We just cannot afford to destroy our irreplaceable natural heritage like this."
Last week Gwent Wildlife Trust and Friends of the Earth Cymru said the plans were unlawful because they do not include any "reasonable" alternatives.
The environmental groups claim they ignore half a dozen other options including upgrading a road through a former steelworks.
The Welsh government said other options did not offer "a long-term solution".
'Reasonable alternative'
Ministers have said that cutting motorway congestion in the Newport area is essential for the Welsh economy.
The main element of the new plan is for a section of three-lane motorway between junction 23 at Magor and junction 29 at Castleton.
The draft plan also has two "reasonable alternative" routes and another option which considers the consequences of doing nothing.
Plans to ease congestion on the M4 in south Wales were unveiled by the Welsh government in 2004.
Five years later the then Labour-Plaid coalition in Cardiff Bay shelved the idea when the estimated cost rose to £1bn.
In April, Chancellor George Osborne confirmed his backing for an M4 relief road, describing it as one of the most important road schemes in the UK.
UK ministers announced in November that Welsh ministers could borrow the money needed to fund the relief road.