Nothing 'off the table' to save £25m, says Newport leader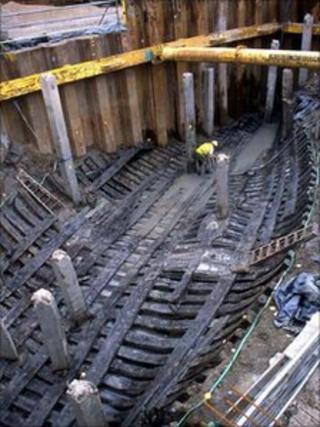 "Nothing is off the table" as Newport council seeks ways of saving £25m over four years, says its leader.
Bob Bright's comments came as the authority published proposals including a 5% council tax rise and ending city centre CCTV.
The authority would consider ending the CCTV by 2017, unless the running costs match the revenue income.
Over 100 savings proposals also range from closing libraries one day a week to ending the schools library service.
The council's cabinet is due to meet to consider whether to put the proposals out to public consultation on Thursday.
Council funding for preservation work on the Newport Ship, a 15th Century merchant vessel unearthed on the banks of the river Usk 11 years ago, could also end.
Other measures to be considered involve:
closing Newport Museum for one day a week
shutting the New Willows residential respite home for adults with learning difficulties
closing the Hillside day care facility
asking a third-party to manage the Riverfront Theatre
shutting public toilets
Newport council current annual budget is about £250m a year.
'Cuts inevitable'
Mr Bright said the council had worked "incredibly hard" to make "big efficiency and productivity gains".
"We will continue to improve our efficiency and streamline the organisation, however these measures alone will be insufficient given the scale of the funding gap that looms ahead of us," he said.
"We are now at the stage where further cuts and radical changes to how services are delivered are inevitable, however tough that may be.
"These budget proposals show that nothing is off the table."
Mr Bright urged people to take part in the consultation, promising all responses would be considered before final proposals were made.
Swansea council's cabinet is due to meet on Tuesday to consider hundreds of job losses, closing care homes and raising car parking charges as it looks to save £45m over the next three years.