Georgia Marshall 'electrocuted' helping get family Christmas decorations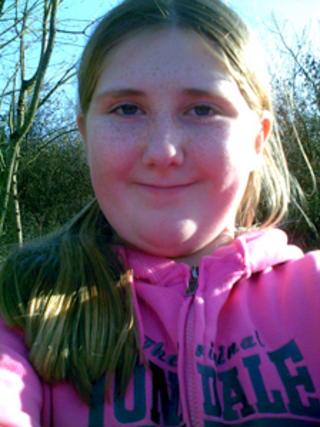 A 13-year-old girl has died after she is believed to have been electrocuted while helping get her family's Christmas decorations.
Georgia Marshall, from Barry, Vale of Glamorgan, is thought to have suffered an electric shock while holding a metal ladder which touched a live wire from an extension cable.
Police say they are not treating Georgia's death as suspicious.
An inquest is due to be held into her death.
It is understood Georgia was holding on to the metal step ladder as her father, Richard, 54, looked for a box of Christmas decorations on Saturday.
Her mother, Glenda Marshall, paying tribute on Facebook, wrote: "My beautiful light became a shining star today.
"Love you forever and will miss you till the day I die. My amazing Georgia. Words cannot say how I feel.
"This is so hard for us. I wont ever get over this, but all your thoughts and help are so much appreciated by all of us."
Georgia, a keen horse rider and dog lover, was one of seven children.
Her sister Amy Bennett, 29, said: "My mum can barely speak. My dad is blaming himself. My two youngest siblings don't want Christmas."
Classmates at Bryn Hafren Comprehensive where a memorial service for Georgia has already taken place have been offered counselling.
Head teacher Phil Whitcombe said: "Georgia was a lovely girl, she was one of our more gifted pupils and always hard working and polite.
"We will miss her very much and our thoughts and prayers are with her family."
A South Wales Police spokesman said: "Our thoughts and sympathies are with the family at this tragic time for them."
An inquest is due to be opened and adjourned into the death later this week.