Torfaen council approves 4,700 new houses and Gypsy site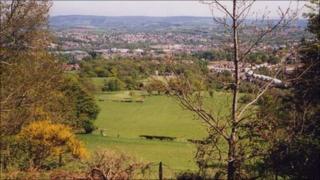 Outline plans for 4,700 new houses and a larger Gypsy and traveller site have been approved by Torfaen council, as it looks ahead to future housing needs.
The Local Development Plan was passed by 28 votes to 4, giving guidance for new developments until 2021.
The previous plan in 2011 was rejected by the Welsh government's planning inspector for not having enough new housing or plans for traveller sites.
Torfaen says it aims to achieve a "network of integrated communities".
Those plans will focus on Cwmbran and Pontypool.
After Tuesday's meeting, many councillors said they felt "forced" to vote for the Local Development Plan (LDP) or or see it imposed by the Welsh government.
'Hobson's choice'
A previous requirement to allow the quarrying of up to 7.2 million tonnes of aggregate from the local authority area was dropped.
Labour councillor and cabinet member for resources Anthony Hunt voted for the motion, but complained: "In many ways this is Hobson's choice - accept the LDP, warts and all, or have a gun held to our head and have it accepted for us.
"In many ways that doesn't conform to my view of democracy."
Independent councillor Liz Haynes, who voted against the plan, told the full council meeting they should "bear in mind" that accepting the LDP could make turning down any future planning applications difficult.
Council leader Bob Wellington said builders and developers had "run amok" in Cwmbran in the past and that adoption of an LDP was important to maintain control of future developments.
The council said it aimed to take advantage of brownfield sites but said some greenfield sites would also have to be developed.
The new plan includes proposals to build fewer homes - 4,700 instead of 5,000 - to reflect "changing market conditions".
'Under pressure'
Around 24% of new builds, amounting to 1,132 homes, will be affordable housing.
South Sebastopol is one of the controversial greenfield developments.
In 2011, the council rejected plans by Barratt Homes on behalf of a consortium to build 1,200 homes on the former farmland.
Campaigners had argued 1,200 homes there would put nearby amenities, roads and schools under pressure.
In March last year, the council voted to remove the proposal from the LDP. However, Barratt won an appeal to develop the site.
It is also proposed to enlarge the Rose Cottage Gypsy and traveller site near Pontypool to address overcrowding.