Rachel Isaac's 'horrendous' abuse by Michael Batten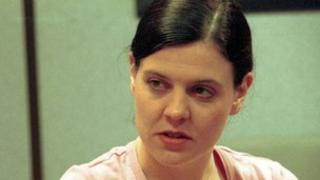 An actress who starred with Ricky Gervais in The Office has spoken of her experiences of childhood sex abuse in a bid to help others.
Michael Batten, 70, of Maesteg near Bridgend, was jailed for 30 months for sex attacks on Rachel Isaac as he babysat her when she was eight.
He was convicted of indecent assault and gross indecency.
Ms Isaac, who has given up her anonymity, spoke of the burden of carrying a "horrendous experience".
All victims of sexual abuse have a legal right to have their identity kept secret.
Ms Isaac went to police after writing to her abuser and receiving no remorse in a reply.
'Amazing' support
The actress said she wanted other people to know what a painful experience it had been to go through and that there was support out there for other victims.
"I thought it was easier to keep it a secret than to tell people," she told BBC Wales.
"But in the end, the burden of carrying such a horrendous experience around made me ill.
"I had to tell people, but what's brilliant is that I was believed from beginning to end.
"I thought people would find it too unbelievable for it to be true but that hasn't been the case at all. Everyone's support has been amazing."
She added: "The big thing is I've sorted out the very practical issue - I basically wanted to tell my mum. In order to do that, it's taken a year of police and court and trial which is all very, very stressful."
During the trial at Cardiff Crown Court, she told how she was frightened into silence for years by the family friend.
'Vulnerable, trusting child'
"He robbed me of my childhood and ruined my life," she told police.
In her letter delivered by courier to Batten's door, she wrote: "I was a vulnerable, trusting child.
"You broke my spirit and wrecked my confidence.
"I can never get those years back and I have lived my life in a constant state of fear thinking I was worthless."
The court heard the abuse went on for at least two years.
The jury was told she came face to face with her abuser several times over the years.
Ms Isaac took a year to compose the letter to Batten, hoping for an apology. She sent it to him by courier to make sure he signed for it.
The court heard what she received was a short reply which "expressed no remorse".
The court heard Batten apologised for "any harm you think I have done to you" and wished her well for the future.
He then destroyed it because he said he did not "want to upset his wife".
Police investigated and arrested Batten after reading a copy of the letter and his reply.
"I suppose the story will never be over for me," Ms Isaac told BBC Wales.
"It's created issues that will never go away that I will have to work with and think about.
"But of course this is a much better, healthier situation for me. The truth is out there, everybody knows. He's in jail, justice has been done.
"I'm just trying to learn how to be happy with myself and not in a place of fear when I don't need to be. So I'm going to keep working on those things and hopefully start to enjoy things more like a normal person."
After training as an actress Ms Isaac starred in two films before appearing in ITV drama I Saw You.
Her next major role came when she played Trudy in the second series of award-winning BBC TV sitcom The Office before going on to tour America including a stint on Broadway in the Greek tragedy Medea.
Batten was jailed for 30 months last week after the court heard he was in severe ill health.
He was put on the sex offenders' register for life.