Llandow fire at Vale Business Park set for second week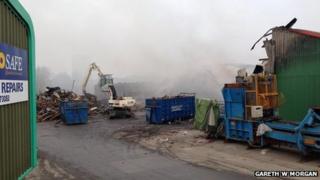 A fire is continuing to smoulder at a Vale of Glamorgan recycling centre, six days after a huge blaze that could be seen from across the Bristol Channel.
Up to 20 firefighters at a time remain tackling the blaze at Siteserv on the Vale Business Park in Llandow.
It is still not clear what caused the blaze but firefighters say it could be at least a week before it is put out.
Fire crews are having to demolish the building to get at the burning household waste.
At its height, up to 90 firefighters from three stations were fighting the blaze which threw a column of black smoke high into the air.
People on the other side of the Bristol Channel reported seeing the blaze.
The materials on fire include plastics and cardboard. Fire service officers said crews needed to "dig out" bales of packaging at old Georgia Pacific buildings.
South Wales Fire and Rescue Service station manager David Baxter said: "During the evening there's a defensive team of six on site.
"But during the day we have around 20 firefighters here, working alongside a demolition company to ensure the fire is extinguished.
"Because of the dangerous structure we can't go in and fight the fire - so they are having to demolish the building and bring the fire to us.
"I wouldn't like to put a number on how many days we'll be here, but probably until the middle of the week.
"The material is very compact - it's a mixture of plastics, papers and non-recyclables - household waste."
One fire crew was at the scene on Monday morning.
The blaze which erupted early on Tuesday was the second fire in a month on the same estate in a building owned by the Siteserv recycling company.
The first fire was said to be accidental and investigations into the cause of the second blaze are ongoing.