Cardiff war dead memorial Temple of Peace marks 75 years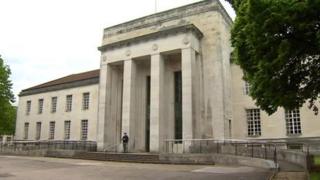 A Cardiff landmark built to remember the dead of World War One is marking 75 years in the quest for world peace.
The non-religious Welsh Temple of Peace in Cathays Park was a gift from former Montgomeryshire MP David Davies.
Opened in November 1933, it is home to the Welsh Centre for International Affairs and has a book of remembrance for the 35,000 Welsh victims of WW1.
The temple has hosted bodies and events promoting international cooperation and has even been used as a Doctor Who set.
Its founder, who became Lord Davies, was inspired by his experiences in the trenches which convinced him of the need to put an end to war.
'Promoting fairness'
The centre's Peace75 Festival this weekend aims both to remember the history of the building and uphold the ideals which it was originally built to represent.
"The nature of the work undertaken here has changed over the years, as has the world itself," said Susie Ventris-Field, WCIA's Assistant Chief Executive.
"Lord Davies was very driven by the need to prevent war through international governance, and was a big supporter of the League of Nations.
"Today the focus isn't so much on preventing wars between global superpowers, but promoting fairness and equality, alleviating poverty, and promoting cultural and racial understanding, so that we can help to reduce the sorts of tensions which history has shown us can one day lead to wars."
Over its 75 years the temple has hosted speakers ranging from school children to prime ministers, presidents, royalty and UN secretary-generals.
In 1998 it was the venue for a European summit, and during the 1970s it was earmarked to be a possible home for a Welsh assembly if the 1979 referendum had gone in favour of devolution.
On a lighter note the temple has appeared as both a futuristic space-station and as ancient Pompeii in two of its many stints as a location set for the BBC TV sci-fi series Doctor Who.
Bomb attack
The temple has also seen darker days in 1967 and 1968 when it was bombed by Welsh nationalists opposed to the impending investiture of Prince Charles as Prince of Wales.
"As part of Peace75 we've been right through the archives and put together a display of all the building's high and low points, including photos and newspaper clippings," Ms Ventris-Field added.
"There'll also be a chance for people to learn more about, and get involved with our work, and plenty of attractions to entertain people of all ages."
The birthday celebrations began on Monday, when school children from around Wales had the chance to put their questions to First Minister Carwyn Jones.
The visitors over the weekend will be able to take part in traditional Welsh arts, try African drumming, and participate in workshops in philosophy for children, Doctor Who debating, poetry and storytelling.