Lostprophets' Ian Watkins abuse: Online 'chat' risk warning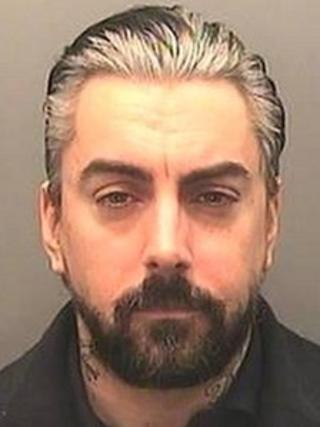 Police are warning people talking about paedophile rock star Ian Watkins on social media that they run a "very real risk" of identifying his victims.
The former Lostprophets frontman from Pontypridd faces a lengthy jail term after admitting "depraved" sex abuse against children, including a baby.
South Wales Police said while there was "strong public feeling" about the case, people should be careful what they say.
Officers said the victims' distress would increase if they were identified.
The law provides Watkins' victims with anonymity for life.
For that reason, the two women convicted with him - the mothers of the children he targeted - have not been named.
The pair also pleaded guilty to a range of offences as their trial alongside Watkins was about to start at Cardiff Crown Court on Tuesday.
The court heard that the two women sexually abused their own children and made them available to the 36-year-old rock singer for him to abuse.
Detective Chief Inspector Peter Doyle described it as "the most shocking case I have ever seen".
Rumours about the details of the case began to circulate on social media websites shortly after evidence was presented before the jury.
Police monitoring Facebook and Twitter say they are concerned about the nature of some of the chatter, and have issued a warning for people to be careful over what they post online.
Sentenced
Det Ch Insp Doyle said: "Clearly there is strong public feeling about this case and many people are using social media outlets to talk about the issues involved.
"However, there is a very real danger that some of the detail being posted will lead to the identification of victims which will cause a great deal of distress to them and their families."
Meanwhile, a music journalist said Watkins' behaviour changed dramatically over the year and he eventually started staying in separate hotels and travelled in different cars to the rest of the group.
Gavin Allen told the BBC News website: "In hindsight it looks like he was hiding his behaviour from the rest of the band."
Mr Allen first interviewed the band in 2000.
"Then, they were still a hard core band, a straight-edge band which is a phrase used for a band not using drugs or drink," he said.
But seven years later Watkins was "detached" from the band and they were giving interviews without him.
"When I saw his mug shots the change in him is startling," Mr Allen said.
"He's gone from having manicured hair to the image of him of what he's become, a sex offender."
Watkins and the two women will be sentenced on 18 December.
Anyone who has been affected by this case or other cases of child abuse can contact South Wales Police on 029 20634184 or the NSPCC on 0808 800 5000.