Teacher Glyn Bevan struck off after bondage with pupils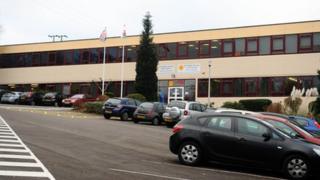 A Newport teacher has been struck off for life for inviting boys to his home for card games, which turned in to bondage sessions.
A disciplinary panel in Cardiff heard French teacher Glyn Bevan, 55, plied boys with drinks and got them to tie him up, or let him tie them.
He befriended teenage boys during the mid 1990s at Risca Comprehensive.
He was found guilty of unacceptable professional conduct between September 1991 and December 2000.
Police did not raid the home of the teacher - nicknamed Mr X by pupils - until more than 10 years after the offences.
The disciplinary hearing of the General Teaching Council for Wales was told Bevan kept gaffer tape and ropes behind his settee.
Police found dozens of framed photos of Bevan and boys trussed up with rope and tape.
Detectives identified 29 boys and traced 26 of them during their investigation.
They also found Bevan's diary describing bondage sessions with pupils.
Presenting officer Martin Jones told the hearing: "He encouraged pupils aged 14, 15 and 16 to visit his home where he provided them with alcohol, illegal drugs and money.
"He encouraged or manipulated them into bondage - tying and gagging them for his gratification.
"He also allowed them to tie and gag him as well.
"Mr Bevan abused his position as a teacher to groom the boys as an older man with access to money."
One of his victims, known only as Pupil A, told police how he was indecently assaulted at Bevan's home in Rogerstone.
He said: "He would tie me up and take photographs. He had thousands of photos in his house."
The pupil - now in his 30s - told how the "activities that took place had a damaging effect on me".
He also said Bevan, who was described as a "heavy amphetamine user", gave pupils various drugs.
'Fundamentally incompatible'
The hearing was told the teacher had oral sex with a 14-year-old boy, took a pupil to London on a shopping trip and gave another boy £300.
The committee also heard how Bevan became "infatuated" with one pupil.
Police charged Bevan with three counts of indecent assault but he later failed to show up for a court hearing and was eventually tracked down to the Forest of Dean, where he was living rough.
He was then acquitted last year after the Crown Prosecution Service decided it was not in the public interest to prosecute him.
Bevan, who did not attend the hearing, resigned from the 500-pupil school in October 2012.
The tribunal found him guilty of possessing indecent photographs and the professional conduct committee said he posed a "serious risk".
It imposed a prohibition order meaning Bevan will be removed indefinitely from the register of qualified teachers.
Chairwoman Jacquie Turnbull said: "Mr Bevan's conduct is fundamentally incompatible with his role as a register teacher.
"He posed a serious risk to the safety and welfare of pupils."