Coroner warns of Facebook bullying after Lewis Thelwall took own life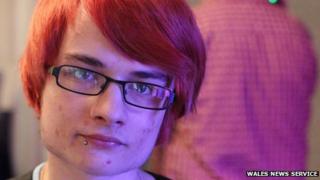 A coroner has warned of the dangers of Facebook bullying as an inquest heard how a teenager killed himself after being targeted.
Two young women were cautioned by South Wales Police after the death of 19-year-old Lewis Thelwall of Port Talbot.
Police had studied his Facebook messages and discovered "malicious and completely unfounded" allegations.
Neath Port Talbot coroner Philip Rogers said he would urge those using social media to "think of the consequences".
Det Con Lee Stephens told the hearing the teenager was a "happy-go-lucky character" who was upset at Facebook slurs.
The photography student was well known for regularly dying his hair a variety of different colours to stand out from the crowd.
But the inquest heard how he was targeted for false rumours by other teenagers on the social network site.
Det Con Stephens interviewed several juveniles after Mr Thelwall's death and investigated the Facebook comments.
The two women - who cannot be identified for legal reasons - were given a caution for malicious communication.
'Facebook bullying'
The coroner said there was a "long and complicated" story involving Facebook messages.
Mr Rogers said: "I can only describe this as Facebook bullying.
"I would urge anyone who uses this sort of social media to think of the consequences."
He added: "Two young women known to Lewis have taken it upon themselves to make entries on Facebook which they now accept as malicious and completely unfounded.
"Sadly he was a young man who was vulnerable because of the death of his father.
"The two young women have accepted their responsibility for these messages.
"They accepted they had little idea of what effect it would have on Lewis."
Mr Rogers said he was satisfied the teenager had hanged himself.
Mr Thelwall, originally from Swindon, moved to Wales when he was nine with his family but his father later died.
He was studying forensics and photography at the time of his death.
After the hearing, his mother, Tina Thelwall, echoed the warning about Facebook bullying.
She said: "Be careful what you write.
"Behind closed doors you don't know what is going on. They did not understand what Lewis was going through."