Lostprophets singer Ian Watkins baby rape trial starts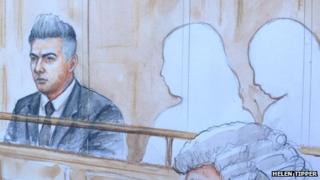 A high-profile trial alleging rock singer Ian Watkins committed sexual offences, including raping a baby, is due to start on Tuesday.
Jurors will be chosen from a panel of 22 at Cardiff Crown Court.
The Lostprophets singer, 36, from Pontypridd, and two other women, who cannot be named, deny a total of 32 charges.
Judge Justice Royce warned potential jurors the trial would include "very graphic material".
Mr Watkins is accused of two separate counts of baby rape and conspiracy to rape another child.
He is also charged with one count of sexual assault, one of aiding and abetting sexual assault by penetration and conspiracy to sexually assault a child.
In addition he faces 17 counts of making, taking and possessing indecent images and one of possessing extreme pornographic image involving an animal.
He denies all 24 charges.
Two women, who cannot be named for legal reasons, also face sexual offence accusations as part of the case.
The three defendants appeared in court on Monday.
All potential jurors were asked whether they knew or had links with up to two dozen prosecution witnesses or any locations which will figure in the trial.
Justice Royce warned them: "Often members of the jury have to listen to or view evidence which is very distressing or unpleasant. This is irrespective of the guilt or innocence of the defendant.
"This case involves allegations of sexual abuse of very young children and will involve the viewing of very graphic material."
He added: "This case is to be tried on the evidence you will hear in court. It is very important that you do not carry out any of your own research."
He also issued a "very serious warning" to potential jurors not to look up details about any of the defendants on the internet.
Those who ignored the warning would face prosecution, he said.
Before adjourning for the day, he said the trial is scheduled to conclude by 20 December when court finishes for Christmas. If it runs over into the new year, proceedings will resume on 6 January.
Of the jury panel of 22 people chosen today, a further six will be retained for an extra day in case they are needed.