Cardiff University addiction brain 'retraining' study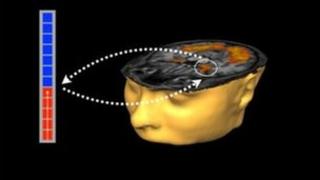 Scientists are investigating whether people with alcohol addiction, eating disorders and post-traumatic stress can retrain the way their brains work.
They will look at whether neurofeedback - a technique showing people positive imagery - can help combat mental and behavioural disorders.
People with depression and Parkinson's disease have already improved their symptoms in this way.
Cardiff University is leading the four-year study.
The university has previously carried out research in the area using MRI scanners to show eight people how their brains reacted to positive imagery. Researchers are currently evaluating the results.
'Improve their symptoms'
"Using an MRI scanner, neurofeedback allows scientists to monitor brain activity of patients in real time," said Prof David Linden, of the school of psychology, who will co-ordinate the European Commission-funded Braintrain consortium.
"The activity levels are then fed back to the patient in the form of a simple display on a screen.
"Using the feedback, it allows patients to see and alter activity in specific parts of their brain.
"Previous studies have already suggested that this technique might help people with depression and Parkinson's disease improve their symptoms."
The research will involve some of the world's best scientists in the field and they hope it will lead to the training of patients in being able to regulate their own brain activity.
"We want to establish whether it can help restore function, improve symptoms and promote resilience," added Prof Linden.
"Ultimately, we hope to establish whether this new technique could become part of comprehensive treatment programmes for these conditions."
Much of the research will be undertaken at Cardiff University's Brain Imaging Research Centre (Cubric) using MRI scanners.
Beer and wine
Fellow psychologist Dr Niklas Ihssen said clinical trials would be dealing with the question of whether neurofeedback could help those with alcohol addiction.
People taking part in the trial will be shown images of beer and wine, with researchers trying to find an area of the brain which is engaging in processing the pictures.
Dr Ihssen said they would show the participants how they respond by using symbolic feedback.
He said it was self-guided training "like trying to control your heart rate".
"We hope the technique is transferrable to everyday life, " he added.
Neuroscientists, physicists, psychiatrists and computer scientists from the Netherlands, France, Portugal, Germany, Israel and the UK will be involved.
The Braintrain consortium is meeting for the first time in Cardiff this month.