Cardiff Castle moat is re-flooded after excavation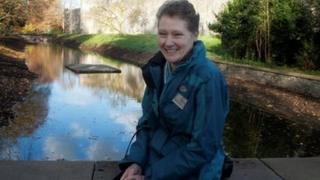 Cardiff Castle's outer western moat has been re-flooded for the first time in more than 30 years.
Archaeologists excavated the moat, known as Mill Leat, during a restoration project and found 3,000 items dating back to the 16th Century.
It is believed the watercourse once supplied a corn mill and evidence of local potteries, tanners and metal workers was uncovered.
A ribbon-cutting event took place at the moat on Monday.
The ceremony marked an important milestone in the £5.6m restoration of the city's Bute Park.
The word "leat" means "an open watercourse conducting water to a mill" and it is believed the mill was located close to the castle's west gate.
Mill Leat contained water until the late 1970s when it was drained, but the restoration has enabled archaeologists to shed light on little known period in Cardiff's history.
Artefacts including engraved leather items, a sword sheath, what appears to be Venetian glass as well as pewter spoon and clay tobacco pipe fragments have been uncovered during the recent excavations.
The high-status pieces give a probable link to the former residents of Cardiff Castle during the 16th and 17th Centuries.
Archaeologists now have to assess the significance of the thousands of pieces recovered and determine what future analysis is required.
Once conserved, it is hoped that finds will be placed on display in museums.
With the re-flooding of the moat, the park will see something from its original character returned, as well as creating a new freshwater habitat.
Cardiff Council's cabinet member for sport, leisure and culture, Ramesh Patel said: "This latest feature will further enhance the park, bringing another captivating element of the city's history back to life."
The park restoration project is supported by a £3.1m grant from the Heritage Lottery Fund ( HLF).
Jennifer Stewart, the fund's head in Wales, said: "We are thrilled that this latest milestone has been reached in the restoration of Bute Park."