Rhys Clark: Dog rescue cliff fall was accident, inquest hears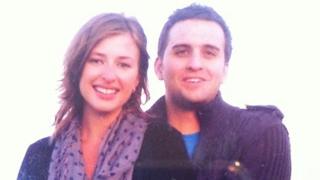 A man died after he and his girlfriend fell down a cliff trying to save their dog, an inquest has heard.
Rhys Clark, 27, died and Ania Galanska, 25, was seriously injured after their puppy fell down the cliff face at Southerndown, Vale of Glamorgan.
Mr Clark's father Roy told the inquest that the couple, who lived in Cardiff, had planned to marry.
Cardiff and Vale of Glamorgan coroner Thomas Atherton recorded a verdict of accidental death.
The inquest in Cardiff heard how Mr Clark, a civil engineer, followed by his girlfriend, slid down a steep grassy slope before falling over the cliffs.
Mr Clark was killed while Ms Galanska suffered multiple fractures and is still recovering. She did not give evidence at Thursday's inquest.
Witness Archie White, 13, told the hearing: "The man was running forwards and tried to grab the dog by the edge of the cliff but he was too slow.
"He scrambled down the steep side but was unable to stop himself and shot forward headfirst towards the rocks."
Sam Clarke, who was climbing on the cliffs at Southerndown, told the inquest: "The man was sliding feet first down the grassy bank.
"He was sliding at some speed and appeared to be out of control as he tried to stop himself before he went down the vertical cliff face.
'Tragic consequences'
"The woman also started to slide down the same grassy bank before she tumbled down the cliffs."
Lifeguards tried to resuscitate Mr Clark before a doctor pronounced him dead from multiple injuries.
Polish-born Ms Galanska was airlifted to hospital.
Mr Clark's father told the inquest that the couple were in love and his son had told him they planned to get married.
The couple had rescued the mongrel dog from an animal welfare centre weeks earlier.
Coroner Mr Atherton said: "It is quite clear from the evidence that the dog ran towards the cliff edge and Rhys followed with tragic consequences."