Number of suffering horses put down by RSPCA rises to 100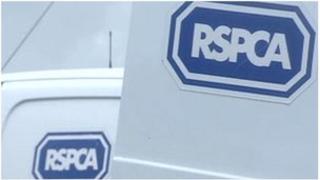 The number of horses put down at a site in the Vale of Glamorgan has risen from 45 to just over 100.
RSPCA inspectors and council workers have screened more than 400 horses at the site in recent weeks, with more than 300 removed to a place of safety.
Other animals including sheep, geese and dogs were also taken away.
The minister for natural resources has thanked the agencies for their work on the "deeply upsetting situation".
Alun Davies AM said the RSPCA, the council, Redwings Horse Sanctuary and the police had all acted swiftly to address the animals' suffering.
'Tragic situation'
"As this deeply upsetting situation unfolded, I have been saddened by the awful condition the horses had been left in," Mr Davies said.
"Difficult decisions have had to be made and, although this situation has been very distressing, the organisations involved have worked together tirelessly and in particularly difficult circumstances to protect the welfare of these animals.
"I am grateful to all those involved for their swift and effective action which has relieved the suffering of these horses and I would like to pay tribute to the Vale of Glamorgan council for their robust response to this emergency."
The RSPCA called it a "tragic situation that was hugely upsetting for all those involved".
A spokeswoman for the charity said it was an ongoing animal welfare investigation and they could not provide further information at this stage.
'Swift and robust'
The Welsh government is introducing a Control of Horses (Wales) Bill which is currently going through the Senedd.
The legislation is aimed at tackling illegal horse grazing, or fly-grazing.
The Welsh government has said it plans to "fast track" the bill through the Senedd so local authorities have the powers as soon as possible.
The changes would allow swift intervention to tackle fly grazing.
Mr Davies added: "Although this particular incident was on private land I think it only emphasises the need for our proposed Control of Horses (Wales) Bill to tackle the problem of abandoned and suffering horses.
"Our legislation encourages more responsible horse ownership while at the same time providing local authorities with the tools they need to take swift and robust action when horses are abandoned or left on land without consent."