Caerphilly Miners surgery patient wants hepatitis C virus answers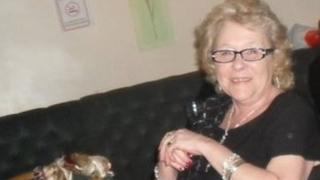 A patient who tested positive for hepatitis C has spoken of her anger, nearly three months after 5,000 women were contacted by hospitals over fears they may have been infected.
A retired obstetrics and gynaecology worker, mainly based in Caerphilly, infected two patients, it emerged.
Angela Richards, 69, wants to know how she contracted the disease, which she has been told is no longer present.
Health officials say they are unable to find out more after hep C has cleared.
Aneurin Bevan Health Board said it was coming to the end of the testing exercise and acknowledged a "worrying time" for patients.
Mrs Richards, from Caerphilly, had the neck of her womb removed in an operation in 1989, which was followed up in 1990 with a hysterectomy.
Both were carried out at Caerphilly District Miners Hospital, where the obstetrics and gynaecology worker was mainly based during their career in Wales.
The virus was passed on between 1984 and 2003.
Aneurin Bevan Health Board said in September it had been made aware that a worker involved in the treatment of thousands of patients had the disease, which can lead to inflammation of the liver.
The virus was known to have been transmitted from the worker to two patients between May 1984 and July 2003.
The person concerned also worked at Wrexham Maelor Hospital and the old East Glamorgan Hospital near Pontypridd, as well as numerous other hospitals around the UK.
'Pretty remote'
Mrs Richards said: "I had a blood test in September then two weeks later they called me back and said they had found antibodies in my blood so I had another blood test and I had the results on Saturday."
She was told she must have cleared the disease from her body, and she says she was never affected physically by any illness that she knows of.
However she continued: "Initially [my reaction] was relief. But when I got home and started thinking about it I felt angry, because staff were saying, 'we can't tell where you got it from, and we won't be able to tell how long ago you had it'."
She said they could also not tell her if it was the same strain as the health care worker had carried.
Mrs Richards said: "[The nurse] was basically telling me not to ask questions because she couldn't answer them."
She is also concerned about any possible implications for her family or former colleagues.
"My husband and daughter both had tests on Saturday and my other two children have appointments. They all have children. If anything shows up, their children are going to have to be tested.
"After I had the neck of the womb removed, I went back to work in a kitchen. I used to cut myself in the kitchen all the time."
She has been told that the chance of any transfer was "pretty remote" but it is playing on her mind.
"I would like them to tell me that this strain of hepatitis was in fact the one passed on by the doctor or whoever it was," she said.
"I'm not interested in the doctor or compensation or anything that because it hasn't affected me. I'd just like them to confirm that this is where the hepatitis came from.
"That's what I want to put my mind at rest. I have never used drugs or needles or had a blood transfusion so this is the only place it could have come from."
Dr Gill Richardson, director of public health at Aneurin Bevan Health Board, said she could not comment on individual cases due to patient confidentiality.
She added: "In cases where hepatitis C has cleared from the system it is not possible to undertake further analysis to find out the strain of the disease or how it was contracted. There is no available test that will give us this information.
"We understand this has been a worrying time for patients who have received letters as part of the testing exercise and are doing all we can to provide support and advice.
"The health board is now coming to the end of the exercise and results are being collated and will be reported in due course."