Warning after beetles found in dates and figs by Cardiff food testers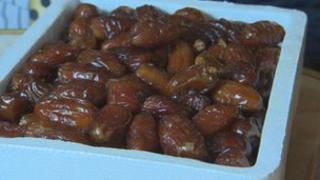 A warning has been issued after food testers found live and dead beetles, larvae and insect excrement in seasonal figs and dates on sale in Cardiff.
The city's food testing laboratory discovered 60% of the dates and 75% of the figs sampled were infested.
Scientists examined 43 packets of the dried fruit on sale in shops and markets - 3,500 fruits in total.
Under European law the infested fruit would be classed as unsafe.
Alastair Low, of Cardiff Scientific Services, told BBC Wales's X-Ray programme that some of the larvae were the same colour as the fruit and not immediately visible.
'Oblivious'
When some of the fruit was cut open, five live beetles were found inside.
The insects enter the figs and dates when the fruit is being dried and packaged in the countries where they are grown - including Saudi Arabia, Turkey and Tunisia.
Mr Low explained: "They eat the fruit in order to grow and then they sometimes become trapped inside, and they obviously die or they are still living.
"Unless you cut the fruit open you are going to be oblivious to it."
And although the laboratory has only tested figs and dates bought in Cardiff, Mr Low is concerned the fruit infestation could be a wider problem across Wales.
He said: "If it's present in a large city I'm sure those types of shops appear all over Wales, so it is certainly something to consider."
Mr Low advised consumers to cut the fruit in half and inspect it. If it is infected they should contact trading standards, he said.
X-Ray is on BBC One Wales at 19:30 GMT on Monday, 18 November.