Puppy Titch reunited with owners after snatch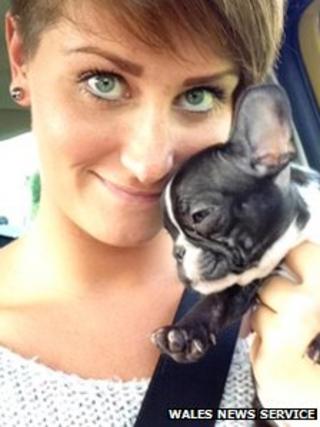 A family from the south Wales valleys has been reunited with a puppy snatched by two men two weeks ago who claimed they were interested in buying it.
They allegedly took Titch from Aberdare after responding to an online advert about a French bulldog for sale.
The five-month-old puppy was found in the Splott area of Cardiff on Thursday after police spotted him through a letterbox.
South Wales Police said they are still looking for those responsible.
Student Rhiannon Jones was reportedly hurt after being struck by the men's red van as she tried to stop them escaping with Titch.
The family said that after the experience they are now considering keeping the dog.
"We are absolutely delighted to be able to find and return Titch - it's the result of some good police work," said Inspector Tony Carpenter of South Wales Police.
"But the job isn't finished yet. We are continuing to investigate the incident and are now working to find and arrest those responsible.
"The public can help us finish off the job, so we are appealing for anybody with information to come forward."
Anyone with information is asked to contact South Wales police on 101 or Crimestoppers anonymously on 0800 555 111.