Richard Trevelyan detained indefinitely over father's Porthcawl killing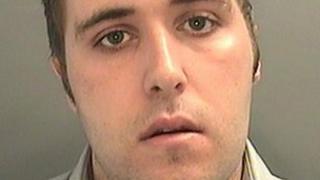 A paranoid schizophrenic who killed his father has been detained indefinitely under the Mental Health Act.
Richard Trevelyan stabbed his father Paul to death at the family home near Porthcawl, Bridgend in October 2012.
Former soldier Trevelyan, 23, was suffering from undiagnosed paranoid schizophrenia at the time.
At Cardiff Crown Court, Trevelyan denied murder but admitted manslaughter on the grounds of diminished responsibility.
The court heard that Trevelyan killed his father after hearing voices saying his parents were "imposters".
Imposing a hospital order for psychiatric treatment, Judge Mr Justice Royce said: "It is a terrible burden you will have to bear - knowing you have killed your own father.
"I am satisfied that at the time you were suffering from paranoid schizophrenia such as diminished your responsibility for what you did.
"This is an utterly tragic case which has had a devastating effect on everyone, including you.
"I express the hope that the treatment you receive will ultimately bring you back to proper mental health enabling you to be released back into the community."
Trevelyan, who had been discharged from the Royal Engineers after suffering from asthma, had received mental health treatment before the attack in October last year, the court was told.
He had seen a doctor after suffering from "drug-induced psychosis" after taking the drug mephedrone, known as Meow Meow - a class B drug.
He had been prescribed anti-psychotic medication but stopped taking it after complaining of feeling drowsy.
'Harrowing'
The court heard how Trevelyan had been taking mephedrone when he attacked his father at their home in Nottage Meadow, Nottage.
His parents were trying to take him to hospital when he suddenly lunged at his dad, pushing the blade deep into his chest.
Mother Christine made a "harrowing" 999 call before locking herself in the bathroom for her own safety, the court heard.
Police broke down the door and found Richard Trevelyan had stabbed himself five times to the abdomen and chest.
He made a recovery from his injuries and has since been treated at the Caswell Clinic in Bridgend.
Paul Trevelyan had worked at Port Talbot steelworks.