Andrew Morris wins first Wales International Young Artist Award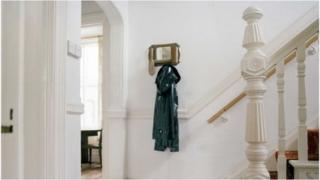 Photographer Andrew Morris has won the first Wales International Young Artist Award award.
The Swansea-based artist beat four others shortlisted for work also including film, sculpture and ceramics.
The award is run by the British Council Wales, and judged by some of the country's leading art experts.
As well as a £500 prize, Morris's work will be displayed at some of the British Council's network of offices around the world.
In order to compete, artists must have been born in Wales, or be resident here, and aged between 17 and 25.
The artists on the inaugural WIYAA shortlist were:
Eugene Finnegan (photography)
Eluned Glyn (ceramics)
Andrew Morris (photography)
Richard Pask (film)
Georgia Skye (sculpture).
The entries were submitted earlier this year, and the winner was chosen while the works were displayed at an event in Cardiff on Wednesday evening.
A panel of three judges picked the winning work: Hannah Firth, the director of visual arts at Chapter Arts Centre in Cardiff; the Welsh artist Marc Rees; and the curator Karen MacKinnon.
The judges said Morris's work showing the interiors of homes that had been repossessed or whose owners had died had conveyed "absence, presence and loss".
Morris said he started the project while a student at Swansea Metropolitan University, now part of the University of Wales Trinity St David.
"I came across the idea of going into houses which had been repossessed and this developed into people who had passed away," he said.
"I get access to houses through estate agents."
Morris, who graduated in July, added: "Hopefully within a year I'll be able to do photography full time."
Simon Dancey, director of British Council Wales, said: "Through this award, we will tap into a wide network of Wales's finest young artists and help open doors for the most talented to develop professionally and creatively, while making lasting international connections that will inform their work for years to come.
"Giving these artists an opportunity to exhibit their work not just in Wales, but internationally, will be invaluable for them at this stage in their careers and lives, and I'm delighted that we will have a crucial part in making that happen."
The University of Wales Trinity St David celebrated its former student's success on Twitter, saying: "That is wonderful news. We are one very proud alma mater."