Lostprophets singer Ian Watkins baby rape trial date set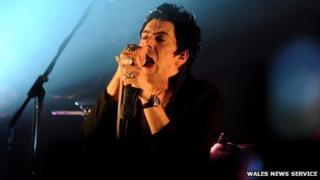 A date has been set for the trial of Lostprophets singer Ian Watkins on sexual offences including raping a baby.
Mr Watkins, 35, from Pontypridd, appeared at a pre-trial review at Cardiff Crown Court via video link from Parc prison, Bridgend.
The court heard his trial due to last three weeks will start on 25 November in Cardiff. He denies all 24 charges.
Two women are also charged with sexual offences against children.
The women, who can not be named for legal reasons, also appeared in court - one by video link, one in person.
The three defendants are accused of 32 offences in total.