Burning planned on diseased plants at Roath Park, Cardiff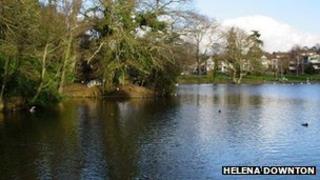 Around 100 rhododendron plants infected with a fungal-like disease known as sudden oak death at a Cardiff park are to be destroyed by burning.
The plants are all on the islands in Roath Park and pose no risk to human health, Cardiff council said.
It is expected to take two months to destroy the infected plants.
Phytophthora ramorum - known as sudden oak death - was first found in oak trees in California in the 1990s but now affects a wide range of plants.
Its spores spread through water, including airborne droplets which can be carried on animals, and through infected water in soil.
"Outbreaks like this are beyond the council's control and we are working, under the instruction from The Food and Environment Research Agency (FERA), to contain and eliminate the risk of infection," said Councillor Ashley Govier, the cabinet member for environment with Cardiff council.
"It is important that we destroy all the infected rhododendrons to prevent this problem spreading and the measures we are taking are vital to ensure that this is done properly."
In September Cardiff council said boating activities had been suspended on Roath Park lake and it warned people to keep their pets out of the water after the discovery of potentially toxic algae.