Fugitive caught by entering 'win a wedding' competition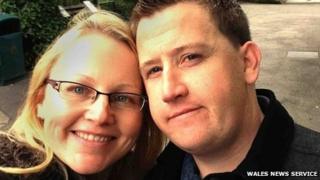 A burglar was caught after evading justice for six years when a police officer spotted his photograph in a newspaper wedding competition.
Vincent Condron, 36, vanished in 2007 after being given a community order for burglary and shoplifting offences.
He was jailed for four weeks at Cardiff Crown Court after admitting failing to comply with the order.
But he walked free from court because he had already spent two weeks on remand waiting to be sentenced.
The court heard a police officer traced Mr Condron to his address after his photograph was seen in a "Win a Wedding" contest with his bride-to-be, Rebecca Young, 33.
Dream wedding bid
The hearing was told he had "turned his life around" since going on the run to Ireland but later returning to Cardiff after meeting his bride.
The pair gave their photograph to their local paper for its annual competition which gives couples the chance to win a £13,000 wedding day of their dreams.
Their competition entry form said they met at Christmas 2011 through family.
"Despite the distance between Dublin and Cardiff we maintained daily contact through the internet and saw each other as often as we could. We fell in love," they said.
The couple have been withdrawn from the competition but are believed to be still going ahead with their wedding plans.
Judge Eleri Rees told him: "You clearly knew for six years that you should have been in Cardiff and not Ireland."