Poisonous fat washes up on Ogmore beach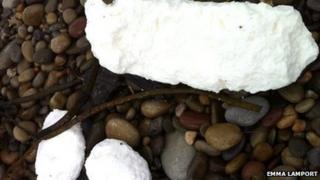 Lumps of poisonous fat have washed up on a Vale of Glamorgan beach posing a threat to dogs.
Natural Resources Wales (NRW) has warned people walking pets at Ogmore to keep them away from the substance, which is believed to be rotten vegetable oil.
NRW said several animals had fallen ill after eating the fat, samples of which have been taken away for analysis.
The fat is not thought to be harmful to children unless they eat it.
"We have visited the beach to assess the extent of the problem and are taking samples of the material which we believe is rancid, degraded vegetable oil," said a spokesman for NRW.
"It is likely to be related to several incidents along the south west coast of England over the last month."
Vale of Glamorgan council said environmental health officers were investigating.
The council's waste management team will inspect and clear the coastline in Ogmore daily until the white substance stops appearing.