Flat Holm's future secured by Cardiff council until 2015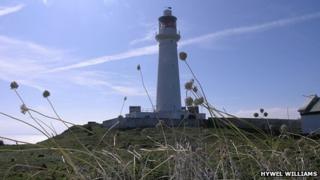 The future of a publicly-owned island off the south Wales coast has been secured - for the next 18 months at least.
Flat Holm, which lies five miles (8km) from Cardiff, was earmarked for "disposal" by Cardiff council to save £150,000 a year.
But councillors agreed on Thursday to maintain the nature reserve until April 2015.
It obtained the island from the Crown Estate on a 50-year lease in 1995.
The council had previously unveiled plans to sell it as part of wide-ranging cuts to save £110m.
At a councillors' cabinet meeting on Thursday, it was decided operational control of Flat Holm would be transferred to two anonymous national organisations in 2015.
They have been chosen as the "preferred operator" after the council sought expressions of interests.
The island dates back to Anglo Saxon and Viking times and is listed as a Site of Special Scientific Interest (SSSI) and a Special Protection Area because of the maritime grassland and rare plants such as rock sea-lavender and wild leek.
In 1883 it also became used as an isolation hospital to protect the mainland against a cholera epidemic. In 1935 the Ministry of Health condemned the building.
'Tough decisions'
And Italian inventor Marconi famously used the island to send the first wireless message across the water in 1897.
Peter Sampson, chair of the Flat Holm Society, was optimistic over the future of the island, which he described as a "living museum".
"There are no real concerns," said Mr Sampson.
"In fact it may even be better. Unfortunately it's been controlled by a council, need I say more.
"They have methods and procedures which can at times be an obstruction rather than an assistance. But they've maintained the island over the years and it's in relatively good condition."
Cabinet member for sport, leisure and culture Ramesh Patel said: "Given the current financial climate tough decisions have had to be made.
"We have clearly identified our key priorities of protecting the vulnerable, prioritising schools and driving forward the economy to create jobs and opportunities.
"This means that we are having to consider how other services are provided or continued.
"I am pleased that we are able to make proposals around a community asset transfer which will mean the island will continue to be managed as a public resource and is conserved for its natural environment and historical interest."