Jimmy Savile allegation at Cardiff Royal Infirmary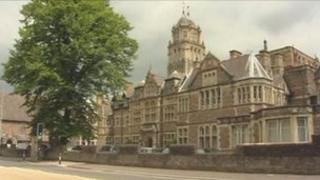 Health officials have investigated an allegation against Jimmy Savile relating to Cardiff Royal Infirmary.
Cardiff and Vale University Health Board said an adult reported an incident from the early 1960s and it was working with police on the matter.
The hospital is one of 13 under investigation in the UK following revelations about decades of abuse carried out by the former Radio 1 DJ.
Final reports on the investigations are due in June 2014.
The disclosure that Cardiff Royal Infirmary was involved in the inquiry was made in a written Parliamentary answer by health minister Norman Lamb.
In a statement on Thursday night, the health board said: "Cardiff and Vale University Health Board can confirm that it has investigated one allegation from an adult relating to an alleged incident at Cardiff Royal Infirmary in the early 1960s.
"The health board is working closely with South Wales Police and the Department of Health on the matter and is not in a position to comment further at this time."
The question in Parliament had been tabled by former children's minister Tim Loughton MP.
In his answer, Mr Lamb revealed there were 13 hospitals being investigated.
Many of them had previously been identified, but this was the first time that a hospital in Wales had been named as being part of the inquiry.
An investigation has also been commissioned by the Sue Ryder charity in relation to Wheatfields Hospice in Leeds.
In October UK Health Secretary Jeremy Hunt said: "It is vital that the final NHS investigation reports are thorough and complete, and reflect all the evidence about Jimmy Savile's pattern of offending.
"The final reports of all the investigations will now aim to be completed by June 2014, with publication sooner if that is possible."
Opportunistic
Savile, who died in 2011 aged 84, is believed to have abused hundreds of victims during his 50-year career as a radio and TV personality.
The Metropolitan Police launched a formal criminal investigation into Savile's alleged offences on 19 October 2012, called Operation Yewtree.
In January, police and the NSPCC published a joint report - Giving Victims a Voice - on Savile's sexual offending.
Key points included that the earliest recorded Savile offence was in 1955, with the most recent in 2009.
His offending was most frequent during the period 1966-1976 when he was between 40 and 50 years old.
Reports of offences at the BBC spanned more than 40 years, from 1965 to 2006.
It said Savile's youngest victim was an eight-year-old boy. The oldest was 47, while most were aged 13-16.
The report said 73% of his victims were under 18 and 82% were female.
Offences were said to be mainly opportunistic sexual assaults, but there were others where an element of grooming or planning was said to have occurred.
Victims' recorded crimes including 126 indecent acts and 34 rapes or similar offences.
Cardiff Royal Infirmary opened in 1884 and closed as a district general hospital in 1999 but has since been used as a base for community health services.
It is currently undergoing a £30m revamp.