HMS Severn visits twinned city Newport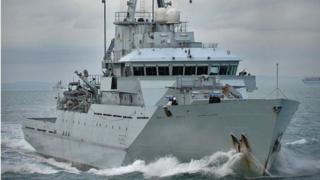 Newport's twinned Royal Navy ship the HMS Severn is visiting the city for four days.
Schoolchildren will be given guided tours of the offshore patrol vessel, which is used to safeguard fishing stocks and enforce fisheries law.
The visit kicks off with a football game between crew members and a team from the council on Thursday afternoon.
On Sunday, the crew will take part in the Remembrance Day parade through the city and the service at the cenotaph.
HMS Severn's commanding officer, Lt Cdr Tim Berry, said: "We are all really looking forward to this visit to Newport.
"Although we are unable to open the ship to the public on this occasion, we are delighted and proud that we will be able to host a large number of young people from our affiliated schools and youth organisations.
"I really hope they enjoy visiting their adopted ship and I know that my ship's company is thoroughly looking forward to talking to them about the role of the modern Royal Navy, the jobs which HMS Severn undertakes in protecting the UK's interests, as well as all about their experiences on the high seas.
"We have a strong bond with Newport and we are always humbled and delighted by the support and reception we receive in this friendly city. It will be great to be back."
The vessel is the ninth to bear the name and is celebrating her 10th anniversary this year.