Valleys tourism ambassador drive misses out on world award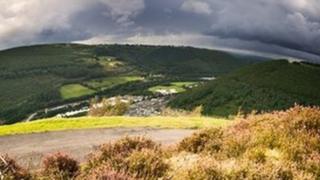 The south Wales valleys have missed out on a world tourism award after being shortlisted for its drive to boost visitor numbers.
The area was nominated for the best responsible tourism destination in the World Responsible Tourism Awards but lost out to a scheme from Brazil.
But judges highly commended the Valleys Regional Park which uses 280 volunteer ambassadors to promote the region.
They work in the industrial valley areas from Carmarthenshire to Torfaen.
The valleys were the only UK destination included in the eight-strong award category.
Sixty organisations have been involved in creating the Valleys Regional Park, which is designed to change perceptions of the Welsh valleys and portray them as a desirable place to live, work and visit.
Cabbies in Merthyr Tydfil are among the volunteers who have trained to become tourism ambassadors.
The volunteers were encouraged during their training to look at their area through the eyes of tourists, anticipating the sights they might want to see on their visit.
Ambassadors have come from different walks of life, including local business people, teachers, park wardens and choir members.
But there has also been a marketing campaign to promote the area and some of the Valleys Regional Park's projects have included new walking and cycle routes.
Speaking before the awards ceremony in London on Wednesday, park community tourism officer Joe Newbury, said: "The valleys as a place to visit has many great assets but its most important natural resource is the warmth and hwyl of the valleys people.
"We believe that the best ambassador for an area is someone local, someone who knows the place and can offer the visitor a real, warm and authentic experience. Local pride cannot be emulated.
"We are thrilled that this is being recognised."
Now in their 10th year, the World Responsible Tourism Awards were founded in 2004 to celebrate the most inspiring stories in responsible tourism.
The overall winner for 2013 was the travel company TUI Netherlands for an initiative to combat sex tourism in Brazil.
The winner of the best responsible tourism destination category was Bonito in Brazil. It is known for its clear waters, caves, mountain and forests with diverse wildlife.
The Valleys Regional Park was highly commended along with other two other entries from Austria and Kenya.