Galilee Chapel reopens in Llantwit Major as home for Celtic crosses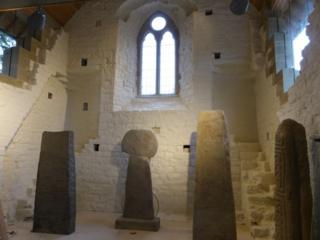 A roofless ruin at a Vale of Glamorgan church has been transformed into a visitor centre after a project which was 50 years in the making.
The Galilee Chapel at St Illtud's church in Llantwit Major also provides a new home for Celtic crosses which date back more than 1,000 years.
It is half a century since the idea of restoring the 13th Century chapel was first raised and it has cost £850,000.
The site dates back to the year 500 and early Christianity in Wales.
The Church in Wales said that one of the Celtic crosses is the Abbott Samson's Pillar Cross, sometimes known as the King Stone, that was rediscovered by scholar Iolo Morganwg in 1789.
It is believed to be one of the oldest known inscribed Christian stones in Great Britain.
The story states it fell into a giant's grave nearly killing some mourners and had then been covered in earth.
The "giant" was a 7ft 7ins (2.31m) tall local youth known as Will the Giant.
It is said that whilst working in the graveyard as a stone mason curiosity got the better of Iolo Morganwg and he uncovered the grave and unearthed the stone.
Working on the project also had an effect on one of the modern-day builders.
Site manager Lee Mayes has had designs of the Celtic crosses tattooed onto his right arm.
"It took a couple of sittings and was pretty painful but I really like it and it's great to have a lasting reminder of working here," he said.
"It's been a great job, I love old buildings and you can't get much older than this one."
The chapel was officially opened on Saturday by the oldest member of the congregation, Gladys Kilby, 94.
There were also music events.
The Archbishop of Wales, Dr Barry Morgan, presided at a service to re-dedicate the chapel at a celebration Eucharist on Sunday.
A Songs of Praise service was also held featuring soloist Charlotte Ellet from the Welsh National Opera.
"It's an exciting day," the Rev Huw Butler, the rector of Llantwit Major told BBC Radio Wales.
"It began as a vision back in 1963 when the then vicar began thinking about the possibility of refurbishing this building.
"The architect began drawing up plans in 2006 and now we get to this day when we're opening the chapel. The Celtic crosses are relocated and look stunning.
"It's one of the cradles of Celtic Christianity, a very important site. But often the story has been left untold and we want people to be inspired and enjoy their visit."
Mr Butler added: "We want as many people as possible to come along and see the chapel and take part in the celebrations, it's not just about the church, it's about the whole community and the town."