Cameras plan for Cardiff parking ticket officers to catch abusers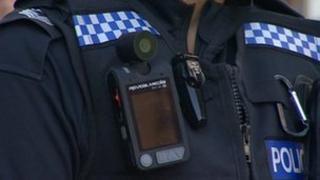 Parking enforcement officers in Cardiff could be fitted with body cameras because of regular assaults while attempting to issue tickets.
One officer had her arm broken, another was threatened with a broken bottle and a third had a vehicle driven at him.
The council's environmental scrutiny committee said so many incidents had happened it was impossible to take action against everyone.
The cabinet noted the report but have not made a final decision.
Councillors were told they have a duty of care to ensure personal safety of employees.
Bob Derbyshire, chairman of the scrutiny committee, said: "Members were alarmed at the levels of aggression and incidents of assaults directed at civil parking enforcement officers (CPEOs) since the transfer of duties from South Wales Police.
"After reviewing the evidence, especially the established procedures and practices in other authorities, the committee recommends that the council provides all civil parking enforcement officers with a suitable badge camera system as soon as possible."
He said as well as improving safety it would also help provide legal evidence if an officer was assaulted or threatened.
Enforcement teams
The committee also called for the council to work with South Wales Police to ensure that immediate support is provided for the capital's 45 CPEOs who become involved in a difficult situation with a member of the public.
Traffic wardens have already been issued with cameras in Swansea and Anglesey.
The committee also found that Swansea and Neath Port Talbot enforcement teams were considering a car camera system to increase coverage of patrols, while Bristol had already introduced this.
But in its recommendations, it stopped short of asking for this to be considered in Cardiff.
The issue was discussed by the council's cabinet on Thursday as part of a report into enforcement and nuisance parking in the city.
A final decision will be taken by the cabinet at a future meeting.
The council took over parking control from police-run traffic wardens three years ago.