Porth fraud investigator laundered money in husband's £885,000 fraud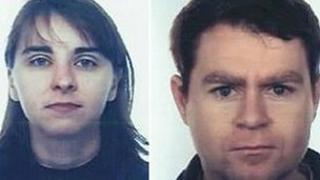 A fraud investigator with the Department for Work and Pensions helped her husband cheat the taxpayer of £885,000.
Elizabeth Lewis, 38, of Porth, Rhondda laundered some of the money husband Mark, 40, falsely claimed from Revenue and Customs, Swansea Crown Court heard.
He had claimed Gift Aid on fake donations to a charity to help send disadvantaged children for breaks.
Lewis was jailed for four years and his wife received a suspended sentence.
Judge Huw Davies said it was a peculiarity of the case that at least some of the money went to good causes.
The court heard the Elizabeth Lewis bought two houses and diverted more cash as her husband pretended to run a charity which was supposed to be sending disadvantaged youngsters on breaks in the countryside.
But the Welsh International School of Climbing and Mountaineering was a sham, prosecuting barrister Laurence Jones told the court.
After just two or three months it stopped collecting donations but pretended to have received millions, including donations from former England goalkeeper David Seaman and TV presenter Nick Hancock.
In return the government paid out Gift Aid totalling £885,711 between 2006 and 2010.
Gift Aid increases the value of donations to charities and community sports clubs by allowing them to reclaim basic rate tax on people's gift.
Proceeds of crime
Mark Lewis admitted fraud by making false representations and money laundering.
His wife was found guilty of four offences of money laundering.
Mark Lewis, a former soldier decorated eight times, was jailed for four years.
His wife, who has since lost her job, was jailed for 18 months, suspended for two years.
Judge Huw Davies said it was a peculiarity of the case that at least some of the money was spent on good causes, including the building of a school in Uganda.
But large amounts of money could not be accounted for and some had been used by Mark Lewis on outdoor adventures and a lifestyle "way beyond your means."
The couple, both from Porth in the Rhondda, recently split up under the strain of the prosecution, the court was told.
A Proceeds of Crime investigation is underway to determine how much of the money can be recovered.
The HMRC said the couple used some of the proceeds to buy a house in Stoke, Staffordshire, which they extensively renovated and converted into flats for rent.
They also paid a £53,000 deposit on a second house in Stoke, and used the equity to help buy their current home in Porth.
Mark Lewis also invested considerable sums on a series of failed outdoor activity and construction businesses.
Colin Spinks, assistant director of criminal investigation, HMRC, said after the sentencing that Mark Lewis submitted false claims "knowing full well that it was an abuse of a scheme designed to help genuine charities in need".
"When arrested, both he and his wife blamed everyone but themselves," he said.
"Our investigations proved, however, that the orchestrator was Mark Lewis, and the couple were the only beneficiaries."
Following the case Christopher Tarrant, a specialist fraud lawyer with the Crown Prosecution Service, said: "Mark Lewis used the guise of a legitimate charity to carry out a cynical and dishonest fraud against the public purse.
"He made a total of 13 fraudulent Gift Aid claims to HMRC, pretending to have received £3,000,000 in donations, when in fact he had raised little more than a few hundred pounds via bucket collections.
'Strong message'
"His wife Elizabeth willingly helped him launder the proceeds of the fraud, purchasing two properties outright, which they then rented out for profit, and financing some 27 other companies that the couple registered with Companies House.
"Elizabeth Lewis's claim not to know about fraudulent income was farcical: she had been a fraud investigator for many years and had extensive experience investigating exactly the sort of offence that her husband was committing.
"This was a fraud that abused a system designed to benefit legitimate charities and there was a strong public interest in bringing a criminal prosecution against those responsible."
Michelle Russell, head of investigations and enforcement at the Charity Commission, said: "Mark Lewis was in a trusted position in the charity, and together with his wife he abused that position for his own personal gain.
"The outcome of this case sends a strong message to anyone who thinks that they can exploit the status of charity and charity tax reliefs for their own personal gain, that they will be caught and prosecuted."