Iron Age hill fort found by TV crew near Kenfig, Bridgend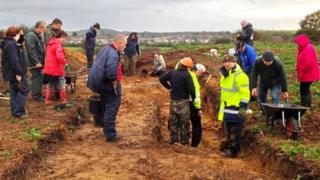 Archaeologists have found the remains of an Iron Age hill fort in Bridgend county.
The discovery at Maudlam village near Kenfig was made during filming for S4C programme Archaeoleg.
The crew also found stone pellets which would have been used with a slingshot for fighting and hunting, and pottery.
The dig also uncovered the foundation of a windmill dating from the 16th Century and features that could be an Iron Age round house.
The discoveries, dating back at least 2,000 years, were made on the Twmpath y Felinwynt site, or Mont Mawr as it is called locally.
Archaeologist and series presenter Iestyn Jones said: "Until our recent dig Kenfig was described as medieval because of the remains of an old Norman castle not far from our site.
"But now we know that there were people living there before and during the Roman era, right next to where the M4 is now.
"It's an extraordinary site because there's evidence that people have been using the hill for over 2,000 years and until recently no-one ever noticed that it was there."
The site has now been recovered and the crew have moved on to their next dig.
The programme will be shown next year.