Opening of Newport bus terminal delayed, says council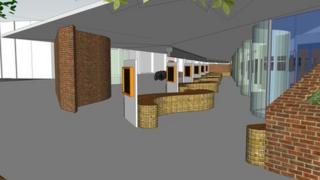 The opening of a new bus terminal in Newport has been "unavoidably delayed" but it will be completed before Christmas, the city council says.
Problems encountered during the construction of the bus station have affected the programme of works.
The new terminus is part of a £100m regeneration scheme for the city.
The authority said it accepted the delay could cause some inconvenience but these were outweighed by the long-term benefits.
Until the new terminal is open some bus services will continue in the existing bus station.
Information
Demolition work in the John Frost Square area is due to begin next week, in preparation for the Friar's Walk scheme.
It was originally intended that the present bus station would be completely closed at the same time.
However, stands 2-11 will now remain open for the services that will eventually transfer to Market Square, with access only available from Corn Street.
Other services are being temporarily relocated around the city centre from Monday while the work on Friars Walk, including a second new terminus, is carried out.
More information is available on the Newport Council website.
A spokesperson for the council said changes to the bus stops have been agreed with the relevant bus companies and SEWTA, the regional transport consortia.
The spokesperson said: "It is accepted that the changes may cause some inconvenience but these will be outweighed by the long-term benefits."