Barry Island prom revamp will 'boost investment' says council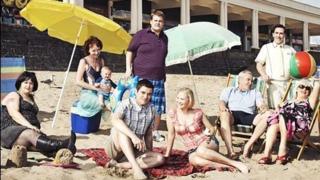 Work is due to begin on a £2.5m project to regenerate Barry Island.
Vale of Glamorgan council said improvements at Eastern Promenade will show how changes at the resort will benefit the town and the Vale.
The resort - once known for its long-gone Butlins holiday camp - is now famous as a setting for the BBC TV comedy series Gavin and Stacey.
The work, which includes the construction of beach huts and new toilets, is due to end in March.
The regeneration will include the renovation of the Eastern Shelter, new gardens and easier access to the promenade and eastern beach.
The former changing rooms which have been vacant for a number of years will be converted into new toilet facilities and a new water feature will be put up below a covered events area.
A variety of beach huts, to be used as market stalls for local artists and crafts people or hired out to visitors, will also be built on the promenade.
"We believe this is the beginning of a great future for Barry Island and we are looking forward to seeing the work start," said Vale of Glamorgan council leader Neil Moore.
"We are committed to improving the visitor experience at the Island and the work on the Eastern Promenade is an example of how we're improving the resort for the benefit of the town and the Vale as a whole."
Barry Island has been popular with tourists for about 150 years. At its peak in 1934, 400,000 people visited during the August bank holiday weekend.
A Butlins holiday camp opened in 1966, closing in 1996.
But Barry Island gained new fame when it featured in the BBC TV comedy Gavin and Stacey, the story of the romance between a Barry girl and an Essex boy.
The series, written by and starring Ruth Jones and James Corden as the best friends of the title characters, ran for three series and put the resort on the map for a new generation.
Despite housing being built on part of the site, the Nell's Point headland has remained largely undeveloped since the holiday camp was demolished in 1997.
The council hopes the regeneration at Eastern Promenade will mean more interest in the site.
"The council is marketing the Nell's Point site until January 2014 and regeneration of the nearby Eastern Promenade should help generate further interest from developers," Mr Moore added.
WRW Construction Limited will carry out the work on the Eastern Promenade and there will be no public access to the area during construction due to safety.
The Clement Colley Way footpath will remain open.
Meanwhile, work on Barry's £230m waterfront regeneration project, called The Quays, is continuing with housing, primary school and supermarket being developed.