Father Neil Davies killed son Joshua in drunken row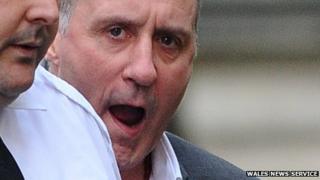 A father has been jailed for five years for killing his own son in a drink-fuelled row after the pair celebrated Wales' Six Nations match.
Neil Davies, 53, of Llanrumney in Cardiff, stabbed son Joshua Davies, 24, in the neck with a kitchen knife following a 12-hour drinking session.
Joshua's carotid artery was slashed and his jugular vein was almost severed. He was found soaked in blood on a sofa.
Davies pleaded guilty at Cardiff Crown Court to manslaughter.
The jury was told frantic efforts were made by police and paramedics to save Joshua.
Boxer
A neighbour in a nearby flat overheard Davies crying: "He's dying, what have I done, what have you done?"
He rang the emergency services and said: "I just stabbed my son, please help".
The court was told Davies later told police: "He is my boy - he's a boxer and gave me a black eye."
Father and son had been drinking for almost 12 hours at a pub and the British Legion club in Rumney, Cardiff.
They had been watching Wales beat England by a record 30-3 last March.
CCTV footage at the club showed the couple pushing each other and arguing shortly before they left just after midnight to return to their flat in Llanrumney.
Peter Davies, prosecuting, said Davies made no comment when he was officially interviewed by police following his arrest.
Mr Davies said: "Death was caused by a single blow on the left side of the neck which penetrated between eight and 10 centimetres.
"There had been friction between the two in the hours before this happened.
"There had been a stand-up argument at the British Legion Club and it continued afterwards but only Neil Davies knows what happened in the flat."
Tests showed both men were almost three times over the legal driving limit.
David Aubrey QC, defending, said Joshua had continued with his confrontational behaviour at the flat.
"He struck the defendant on the left cheek and his father was trying to calm him down," he said.
"He was making sandwiches and Joshua followed him into the kitchen, The defendant had the knife in his hand preparing a meal.
'Deep remorse'
"He is adamant he did not deliberately arm himself with the knife but accepts he must have waved it around to ward off Joshua.
"His remorse was deep and immediate. It is something he will have to live with for the rest of his life."
Sentencing Davies, Recorder of Cardiff Judge Eleri Rees said the pair had a close but volatile relationship.
"Both men had been drinking heavily all day and Joshua had become threatening and continued to be aggressive," she said.
"The defendant acted unlawfully and recklessly in an alcohol-fuelled confrontation."
Joshua's mother Karen Brady, 47, who is divorced from Davies, said: "I took great joy and pride in Joshua and his death has devastated the whole family.
"His father will have to live with what he has done for the rest of his life."