Travellers face legal bid to move them from Royal Gwent hospital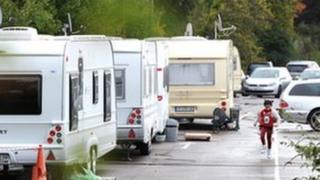 Health bosses have vowed to launch legal proceedings to move French travellers who are blocking a car park used by hospital workers.
Officials had asked the travellers to move 13 caravans from the Royal Gwent Hospital in Newport by 16:00 BST on Tuesday.
However the travellers - who are taking up 65 spaces - said they would not leave until Wednesday.
The travellers arrived at the 300-space car park late Saturday on afternoon.
Surgeons, doctors and nurses were turned away on Monday, but a hospital spokesman said patient services had not been disrupted.
Situation monitored
After visiting the site on Tuesday morning, Jamie Marchant, director of facilities at the Aneurin Bevan Health Board, told BBC Radio Wales: "I have spoken to a few of the travellers and they're very friendly and very amicable.
"They have indicated to us previously that they are moving on tomorrow [Wednesday].
"They've also indicated they are parked up for a funeral."
After the Tuesday afternoon deadline passed, Aneurin Bevan University Health Board, which runs the hospital, said it was now resorting to the law.
"As you will be aware, the health board has requested that the travellers leave our hospital car park by 4pm today," a board member said.
"Given that the travellers are still here following our request, the health board confirms that it will now be taking legal proceedings to take back possession of the hospital car park."
Julian Hayman, a spokesman for the hospital, said security staff would remain in the car park and that the situation would continue to be monitored.
He added it was hoped the travellers would leave of their own accord without the need for potentially costly legal proceedings.
"However, this has been passed to our legal department now and it will be dealing with the situation from here," he said.