BBC's internal scrutiny questioned by MP Alun Cairns in Commons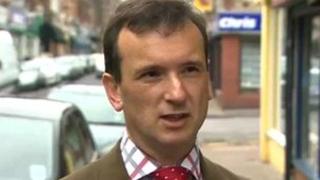 Conservative MP Alun Cairns has questioned scrutiny of internal affairs and financial transparency at the BBC.
The Vale of Glamorgan MP led a debate in Parliament to discuss the future of the corporation on Monday.
The BBC has recently faced criticism over its handling of claims of abuse by presenter Jimmy Savile during his employment at the corporation, and over executive payoffs.
The BBC said it would publish details of its external spending in due course.
Despite saying "the BBC holds a unique place in British society", the Vale MP told the Commons that it did not "make it special or above scrutiny."
Mr Cairns said: "The BBC rightly plays an important part in scrutinising public and independent organisations.
"Its journalists are amongst the best in the world. Its investigative reports have exposed wrongdoing and failure of many individuals and private and public bodies.
"Yet it seems that none of these skills are encouraged to scrutinise in-house matters. The BBC doesn't interrogate its own internal affairs with the same rigour as it does so well of outside bodies.
"How many scandals or examples of wrongdoing about the BBC have been prompted by the BBC? Some may argue that it is not their job but I disagree.
"It receives £3bn a year in public money from the licence fee - probably the UK's most regressive tax," he added.
But Labour MP Chris Bryant disagreed, saying the BBC often scrutinised top officials.
The Rhondda MP said: "I've heard every single Director General and most directors of programmes be quizzed on BBC television and radio with equal aggression as any politician that they might query, whereas I don't recall ever, not even throughout the whole business of the phone hacking scandal at the News of the World, recall Rupert Murdoch being interviewed by Sky."
Mr Cairns also raised concerns over almost £5m spent on three BBC inquiries into the Jimmy Savile scandal.
He has been campaigning for greater transparency of the BBC's finances.
Commercial confidentiality
The Welsh Tory backbencher introduced a Ten Minute Rule Bill last November that called for all invoices in excess of £500 to be published in the same way as local authorities.
"I must say that I was very disappointed with their response to the call at the time - which was basically an unequivocal rejection," Mr Cairns told fellow MPs.
A spokesperson on behalf of the BBC said that such a requirement would place the corporation "at a considerable competitive disadvantage"
"As part of our commitment to being open and transparent, we will be publishing our external spend in due course, however, we need to achieve a good balance of useful and transparent information of what we purchase, with the need to secure value for money.
"As the BBC operates in a predominantly commercial sector, we would be placed at a considerable competitive disadvantage if we were required to release all invoices.
"This could see an increase in our costs and thus a reduction in value for money for the licence fee payer."
On Friday the leader of the Welsh Conservatives, Andrew RT Davies, called for BBC Wales to be made accountable to the Welsh assembly.