Cardiff hit by flash flooding chaos on Saturday afternoon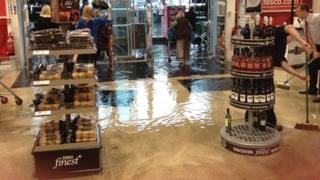 Roads and shops have been closed as flash flooding caused chaos around Cardiff on Saturday afternoon following heavy rain.
Areas affected included Pentrebane, Llandaff, Roath, Cathays and parts of north Cardiff.
Police were forced to close roads in Ely and Culverhouse Cross as localised flooding made conditions treacherous.
At least six fire engines were dealing with separate incidents across the city at one point.
South Wales Police said traffic was at a standstill around the Culverhouse Cross shopping area and warned people to keep away.
A spokesperson said officers were closing the road leading to Marks and Spencer and Tesco at Culverhouse Cross after both shops had been affected by the rain.
Water was reported to be getting into both stores forcing people to be evacuated.
There were also said to be several flooding incidents in Ely, including one at a private property, and Mill Road was closed.
Eluned Haf, of Southerndown in the Vale of Glamorgan, said she was stuck for two hours in the Marks and Spencer car park after the shop was evacuated.
"I was taking the kids off to my mam at Culverhouse Cross and the rain came down," she said.
"I got into the M&S car park and thought 'thank God for that'. I went to hand the kids to my mam and the whole building was evacuated.
"I was stuck in the car park for two hours."
She said there was gridlock on the roads in the area as the nearby Tesco was also evacuated.