Paul Morris sentenced over Ebbw Vale illegal waste dump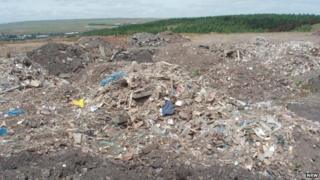 A farmer who allowed over 80,000 tonnes of waste to be dumped illegally in a disused reservoir has been handed a 10-month suspended sentence.
Paul Morris, 47, of Ebbw Vale, Blaenau Gwent, was paid over £280,000 for running the illegal landfill site from March 2006 to July 2010 on his farm.
He denied allowing the waste to be dumped but was found guilty last month.
He was sentenced at Newport Crown Court on Friday where a judge said he was "appalled" at Morris's actions.
Morris was also ordered to carry out 300 hours of unpaid work.
The court heard that officers from the Environment Agency visited Carreg Bica Isaf Farm in August 2010 after neighbours complained about a strong smell.
The officers found decomposing waste and a dark-coloured run-off, known as leachate, escaping into nearby woodland.
Samples taken from the farm land in September 2010 revealed ammonia levels were as high as those found in raw sewage, the court was told.
More than 20 companies who tipped waste at the site were investigated by an environmental crime team.
Christian Jowett, prosecuting, said Morris claimed much of the 80,000 tonnes was inert material which would not have caused environmental damage, but it should not have been there at all because Morris did not have an appropriate licence.
Sentencing Morris, Judge Rhys Rowlands said: "You allowed a great deal of waste to be deposited on your land. In the process of doing so you or an employee would cover it to hide its true nature."
He added the offences were "deliberate, persistent and done for profit".
"The offences only came to light when woodland became contaminated. Up until then you were able to get away with it by covering it with inert material," added the judge.
"Undoubtedly you created a problem and that will remain for some years. Our environment is a precious commodity. I'm appalled at what you were doing."
Judge Rowlands said it was a "serious example of sustained environmental crime" and there had to be consequences to deter others from doing the same.
Gregg Taylor QC, defending Morris, said his client believed that after applying for planning permission he was able to dump waste in the disused reservoir on his land.
"The amount of contaminated waste is but a small part. The vast majority of the waste was not hazardous," said Mr Taylor.
He said Morris had performed "considerable work" to keep the pollution within the boundaries of his land and he had the knowledge and machinery to help the authorities monitor ammonia levels in future.
Following the court hearing, Gareth O'Shea of Natural Resources Wales, said: "We hope the outcome of this case will send out a positive message to those in the waste industry, that Natural Resources Wales will not tolerate those who seek to profit by breaking the law, harming local communities or damaging the environment.
"The motivation behind the crime was financial. The site did not have the necessary permissions and consequently the infrastructure to protect the environment and it undercut legitimate permitted sites."