Cardiff hit-and-runs: Karina Menzies anniversary service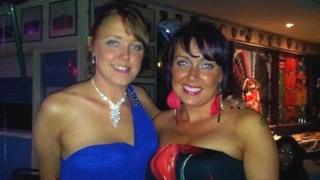 A service has taken place to mark the first anniversary of a mother's death in a series of hit-and-runs in Cardiff.
Karina Menzies, 31, was killed outside Ely fire station while on a school run with two of her three children.
Matthew Tvrdon, 32, who has paranoid schizophrenia, drove on an eight-mile "journey of mayhem" killing Ms Menzies and injuring 17 others.
He admitted manslaughter on the grounds of diminished responsibility and was detained under the Mental Health Act.
He also admitted seven counts of attempted murder and other charges including three counts of grievous bodily harm with intent.
A memorial party was held on Friday evening by Ms Menzies' sister Samantha who is bringing up her three nieces Sophie, 12, Ellie, nine, and Tiana, four.
And a church service was held on Saturday at Ely's Church of the Resurrection before the family held a private memorial.
The church became a focus for the community in the aftermath of the tragedy.
"The year has been absolutely crazy," said 27-year-old Samantha. "My partner Lee and I are just run off our feet but we wouldn't have it any other way.
"The girls are doing well and doing well in school. They obviously have their moments though.
Church service
"The memorial party was a way for me to thank people for what they've done for the family and to thank the community."
Terror was brought to west Cardiff for 30 minutes in October last year when Tvrdon was said in court to have used his van as a "weapon".
Adults and children were injured in collisions in Ely and nearby Leckwith as he knocked people over like "skittles".
In the most serious incident he targeted Ms Menzies as she walked on the forecourt of Ely fire station with two of her children, Ellie and Tiana. Sophie was on holiday in Florida at the time.
She pushed her children out of the way before the van hit her.
Tvrdon was told he would be released from Ashworth maximum security hospital in Merseyside only if a mental health tribunal was satisfied he should be released.
The Reverend Jan Gould, priest-in-charge at the Church of the Resurrection, said: "The tragedy devastated our community last year and I think it's important that we mark this first anniversary.
"Some of the victims were in hospital last year and so were unable to attend the service we had on the weekend it all happened.
"They have said they would like an opportunity to attend something in church as a way of helping them to 'move on'.
"I hope this service will give the community the opportunity to come together again and show their support for those whose lives were completely turned upside down a year ago in that dreadful incident."