A465 road race deaths driver Luke Jones jailed for five years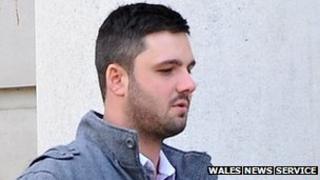 A driver who killed two motorists during an "outrageous" high-speed road race and then fled to the pub has been jailed for five years.
Luke Jones, 24, was doing up to 100mph on the A465 Heads of the Valleys road near Brynmawr moments before the crash.
Cardiff Crown Court heard Jones, of Clydach, near Abergavenny, braked sharply while racing Phillip Bath, 29.
Mr Bath lost control of his car which hit oncoming traffic and he and a motorcyclist died in the "carnage" .
Father-of-one Jones fled the scene and went drinking with a friend and was later arrested at a nearby pub.
Prosecutor Nicholas Gareth Jones said Jones and Mr Bath came across each other when joining the road.
He added: "Their vehicles are described as racing, overtaking one another, speeding and causing other cars to dodge and swerve out of the way.
'Driving like lunatics'
"One witness described Mr Bath's car as skidding around like Formula 1 car warming up its tyres.
"Another said it was an accident waiting to happen and that they were driving like lunatics.
"They were driving at excessive speed - up to 90 or 100 miles an hour - for a three-mile stretch before the accident.
"The collision happened when Jones misjudged the speed of a car in front and was forced to brake.
"Mr Bath couldn't stop, he slammed the brakes and spun into oncoming traffic colliding with a motorcycle."
Mr Bath, of Cwm, near Ebbw Vale, was taken to University of Hospital of Wales, Cardiff, by air ambulance but never recovered from his injuries.
His yellow Peugeot had failed an MOT shortly before the crash and was described as being "not road worthy".
Motorcyclist Glyndwr Evans, 49, of Glynneath, who used to work for the RAF, died instantly in the crash on 27 October, 2012.
Another motorcyclist was treated at hospital for two and a half months following the crash and will never be well enough to ride a bike again.
Jones originally told police the collision had "nothing to do with him" but later admitted two counts of causing death by dangerous driving. He said he was racing but claimed he was only doing 70 mph.
'Scene of carnage'
Caroline Rees, defending, said: "He had difficulty doing the right thing and pleading guilty.
Jones had previously been disqualified twice from driving for not having insurance.
Judge Daniel Williams told him: "This was an outrageous piece of driving over quite a distance.
"You were racing each other and your driving was described as frightening.
"You were using the road like a race track at a time when there were a lot of cars on the road and you represented a serious danger.
"At the time you were the lead car and because of your speed you failed to brake in time and Mr Bath went out of control.
"I accept you are sorry but that would be of far greater weight if you had not left the scene of carnage which you caused."