Gold worth £30,000 stolen from Pyle, Bridgend flat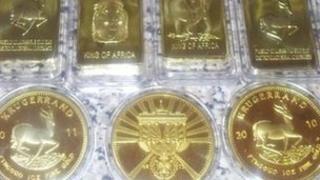 Gold coins and bars worth about £30,000 have been stolen from a flat in Pyle, Bridgend.
They were taken some time between 16:00 BST Sunday, 13 October, and 14:00 BST the following Tuesday.
The fifteen 1oz coins and bars were kept in a maroon velvet draw string bag which police believe may have been discarded by the burglar.
Anyone with information can call South Wales Police on 101 or Crimestoppers on 0800 555 111.
Det Sgt Paul Mason said: "The property stolen is very distinctive.
"We believe the person who stole the items will try to sell it on to a collector or will try to weigh the gold in for cash.
"We are appealing for people working in pawn shops and cash-for-gold type set-ups to be vigilant."