Lostprophets' Ian Watkins in court ahead of baby rape trial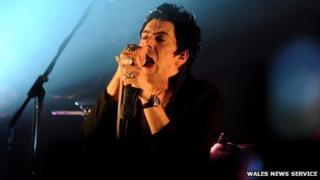 Lostprophets' lead singer Ian Watkins has appeared in court over 24 alleged sexual offences, including two charges of raping a baby.
The 35-year-old, from Pontypridd, denies all the charges. Two women are also charged with sexual offences against children.
All three were remanded in custody on Monday at Cardiff Crown Court for a pre-trial hearing on 12 November.
The judge said jurors may be offered counselling after hearing the evidence.
The alleged offences date from 2007.
The rock band's front man appeared at Monday's hearing via video link from Parc Prison in Bridgend.
The Recorder of Cardiff, Judge Eleri Rees, told the court: "We need to consider what material the jury will be shown.
"There is the possibility that some jury members, having completed the trial, may need counselling."
The charges include sexually assaulting a baby and aiding and abetting a woman to sexually assault a baby.
Mr Watkins, whose band has sold more than 3.5 million albums worldwide, also faces charges of possessing, making and distributing indecent images of children.
The three defendants face a total of 32 offences.
The two women, who cannot be named for legal reasons, also appeared in court via video link.
The court was told how extra steps will be taken to select jury members who have not heard of the rock star.
The case was adjourned until 12 November for a case management hearing before the trial, which is expect to start on 25 November.
Earlier this month the remaining members of the Lostprophets announced the band had split up.