Jabba The Hutt's 'left hand man' works in Cardiff library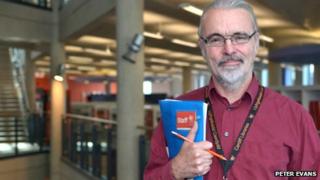 If you have booked a computer course with Cardiff Central Library then beware, your instructor might just turn out to be crime lord Jabba the Hutt. Or to be more accurate, one quarter of him.
Toby Philpott now works for Cardiff council helping deliver computer training to the community.
But 30 years ago his day-job was as the puppeteer who operated Jabba's left arm in Return of The Jedi, the third of the original Star Wars trilogy.
Jabba, instantly recognisable from his giant slug-like appearance and leering grin, was an alien crime lord from the desert planet Tatooine, where he populated his palace with henchmen and slave girls.
And Jabba's other recognisable feature - a slimy flicking tongue - was also operated by Mr Philpott, whose life journey has taken him from street-performing in Mexico, to a clown in London, and as a puppeteer on several other feature films including The Dark Crystal, Labyrinth and Who Framed Roger Rabbit.
But the 67-year-old is still amazed how much interest his past arouses.
"It feels like I almost lead a double life sometimes. I can go shopping and no-one ever recognises me as Jabba," he said.
"But the Star Wars films have a following like no other in history, so I do get a lot of contact from fans and asked to speak at the odd convention.
"It's not that I mind talking about it at all. It just seems amazing that people are so fascinated by what appears to me to have simply been six weeks' work out of a long, long career."
It was a career which began in the early 1970s when Mr Philpott decided street performances were the way to fund his year travelling through South and Central America.
"I grew up in a circus family - my father was a puppeteer too - so when I ran out of money in Mexico, street performing seemed the logical choice," he said.
"I didn't speak Spanish so acting was out but entertaining people with juggling, clowning and magic is an international language.
"It wasn't until my father died several years later that I thought of following in his footsteps with the puppets."
In fact, Mr Philpott took to puppetry so easily that his tutor recommended him to Muppets creator Jim Henson.
'Four guys in a tent'
"I worked with Jim on The Dark Crystal," he said. "I had no experience compared to the guys who'd been on the Muppets, but fortunately by 1979 things were moving towards animatronic puppets so everyone was learning as they went along, not just me."
Henson's next project was working on a top-secret creature to feature in George Lucas's much-anticipated third Star Wars film, and Mr Philpott was his left-hand man.
"It took a team of four of us to operate Jabba - he wasn't so much a costume as a wendy house you had to climb into.
"I was sitting down with my left arm in his, and my right swivelling his neck and tongue. David Barclay worked the right side, Mike Edmonds was inside his tail, and someone else had to control the eyes from outside.
"The challenge was working together so Jabba looked like one sentient creature, and not four guys in a tent. So we'd get George Lucas to address Jabba rather than us individually which did freak him out a bit at first."
Circus trainer
But with the end of the 1980s came the end of the good times as puppets started to be replaced by computer-generated graphics, and productions moved increasingly to the US.
"I never really wanted to chase the work to America. I enjoyed it but it was just a phase of my life," he said.
"So I became a circus trainer in London and eventually got recruited to start performing again with some of my own students in Cardiff.
"Most of them are doing extremely well now but in the mid 1990s it was scratching a living, so I took a temporary job with the library just to eat. Then it got made permanent and I just drifted away from performing.
"Many people ask me why I started working here and all I can say is why not? Finding Jabba working in a library is no more unusual than most of my life has been."