'Greedy' lawyer Gareth Arnold from Cardiff jailed for fraud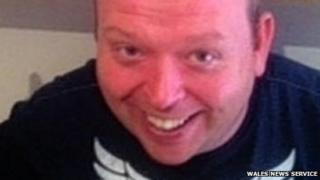 A solicitor has been jailed for stealing more than £200,000 from clients including one who had received compensation for brain damage.
Gareth Arnold, 40, from Cardiff, spent the money on an "extravagant lifestyle" to impress his girlfriend, Swansea Crown Court was told.
Arnold, from AM Law in Cardiff, admitted five charges of fraud.
The judge said he had acted "cynically and ruthlessly" and sentenced him to four years.
The court was told Arnold stole a total of £204,202 and spent money on luxury cars and cosmetic surgery for his partner.
He took £174,000 from client Robert McCloy who had been awarded £300,000 compensation after a significant brain injury.
Judge Paul Thomas told him: "You were entrusted to look after that money, to look after Mr McCloy's interests.
"But you decided that money would be better spent on your expensive cars and extravagant lifestyle and to impress your girlfriend."
The court heard Arnold conned another client out of £30,000 following a house sale in London.
Judge Thomas said Arnold had acted "cynically and ruthlessly".
He added: "You have sullied the reputation of your profession and more importantly you have compromised the reputation of your family, bringing undeserved shame on them through no fault of their own.
"The reason was, quite simply, greed."
The court heard Arnold was initially a partner in his father's firm, Arnolds Solicitors in Swansea, but he left to set up his own firm where accident victim Mr McCloy's compensation funds were transferred to.
'Human cost immense'
The judge said Mr McCloy's payout was intended to make his "shattered life as comfortable as such compensation could".
Judge Thomas said: "That this would have had a financially devastating effect on Mr McCloy appears to have been of little if any consequence to you."
The judge highlighted the "inevitable emotional impact" on Mr McCloy after trusting his solicitor.
"As if he did not have enough burdens to carry," he said.
"In this case... the financial loss is very significant, the human cost however is immense."
Judge Thomas praised Mr McCloy's social worker Andrea Miles for her "great initiative and courage" for repeatedly raising concerns about Arnold's conduct.
Matthew Roberts, defending, said Arnold had lost contact with his two children and family since his arrest.
Mr Roberts added: "His professional career lays in tatters."