Two Cardiff sites considered for new Eastern High School building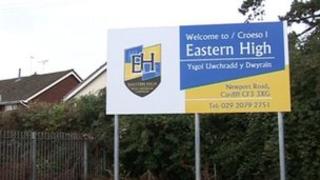 Two sites for a new building for Eastern High School in Cardiff are to be considered, the council has announced.
The Cardiff and Vale College site in Trowbridge and the former Llanrumney High School site are the two possible locations.
Eastern High School opened in September from the merger of Llanrumney and Rumney High Schools on the Rumney site.
The new site will incorporate new post-16 education and training facilities.
This will be managed by Cardiff and Vale College.
Education and Lifelong Learning cabinet member Julia Magill said they had whittled down the sites from a list of six.
The council want the new site to be able to expand to 11 forms of entry. The new site will also need to have access to off-site playing fields, which is one of the reasons the Rumney site was ruled out.
Cllr Magill said: "Driving up standards in education across the city is a priority for us and delivering a new high school in a suitable location, alongside post-16 provision is part of that aspiration.
"We want to provide the best possible learning opportunities, and a state-of-the-art new high school will transform those opportunities for local children as we seek to address performance levels, attendance and outcomes for young people."